14 June 2021
|
The recent 'Rhodesia 1910-13 Double Head Issue: The Cottonwood Collection Robert M Gibbs Trustee' sale at Spink saw a wide variety of the popular South African stamps go under the hammer, including a 'monumental rarity' which fetched £24,000.
The Rhodesia Double Heads stamps of 1910 to 1913 gained their name from the design which features portraits of both King George V and Queen Mary. The stamps are hugely popular with collectors and each design was printed in two colours.
There were eighteen denominations of the Rhodesia Double Head set issued, from ½ d to £1.
£1 Double Head errors
Spink recently offered many examples of the stamps, and perhaps the highlight of the collection was a block of two £1 scarlet and reddish mauve stamps featuring the 'Long gash in Queen's ear' error. The pair was described as 'Fresh and an outstanding multiple of this lovely stamp. A monumental rarity with only one other Gash in Queen's ear item known from sheet 1, and a great showpiece of Rhodesian philately.'
SOLD FOR £24,000
---

Described as 'a fine and exceptionally rare multiple, being the finer of the two known', this block of four claret and pale yellow-olive 3d stamps sold for £7,500.
Many of the Double Heads are categorised by the Rhodesian Study Circle (RSC) and the auction catalogue explained: 'The S.G. 173 group comprises RSC "C", "D", "G", "H" and "J". The S.G. 173a group comprises RSC "E" and "F"
This is the first time a collection has mint examples of all five members of the S.G. 173 family. A remarkable accomplishment.'
SOLD FOR £7,500
Content continues after advertisements
---
A carmine-lake vertical pair of penny stamps from plate B, imperforate between, was another highlight of the sale.
The stamps were described as having 'lovely fresh vibrant colour and with large part original gum; superb quality and a wonderful example of this very rare variety.'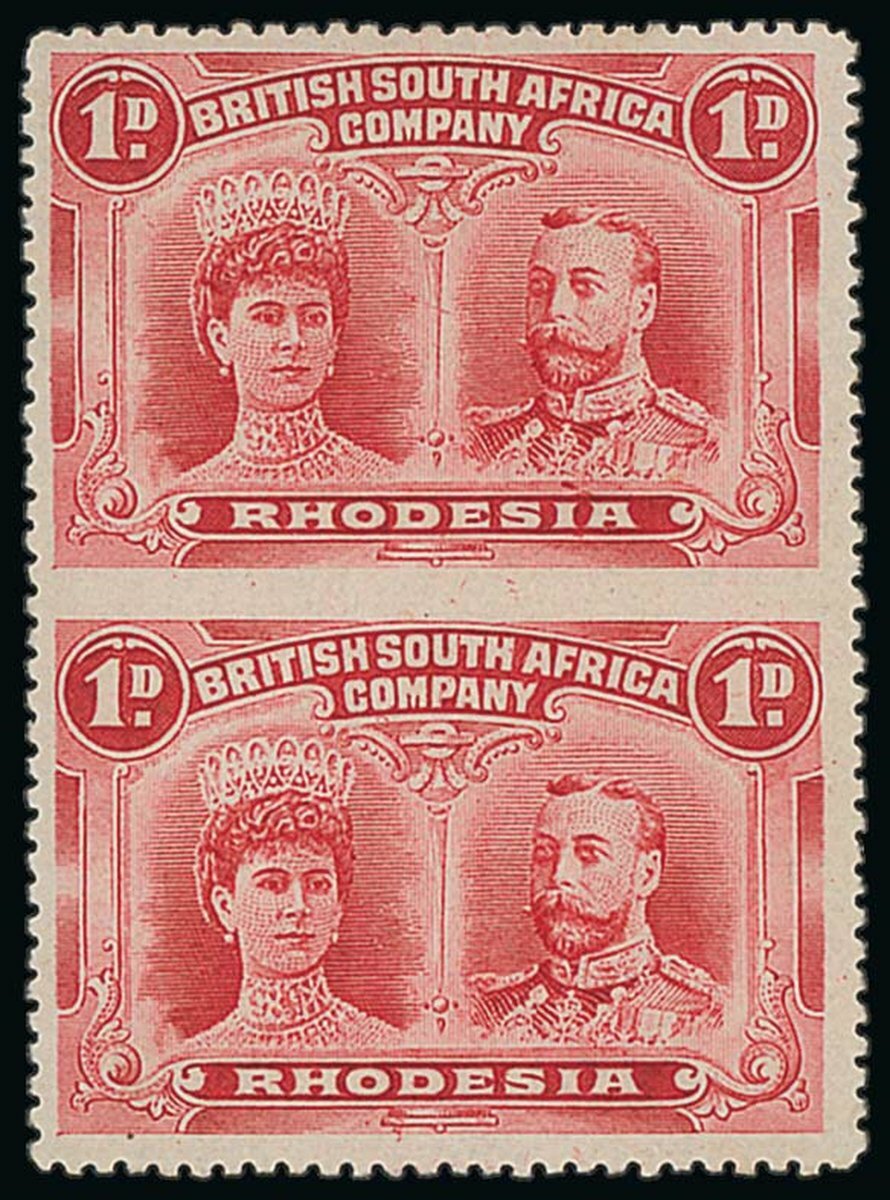 SOLD FOR £8,000
---
A rare printing of the £1 value, in 'deep carmine and blue-black' attracted interest from bidders.
The unlisted strip of three featured the 'Long Gash - Lines by King's cheek' printing variety, was well-centred and boasted exceptional colours 'close to S.G. Colour Guide "lake and slate-blue", unmounted mint'. The lot was said to be 'Superb and the unique multiple of this rare printing.'
SOLD FOR £12,000
---
SIGN UP TO THE FREE NEWSLETTER TODAY and we'll send you news, views and stamp guides direct to your inbox. It's completely free and a great way to keep up to date with the very latest new stamps and enter our latest competitions.
Content continues after advertisement