21 January 2020
|
Spink's Fine Stamps of China and Hong Kong auction at Spink China, held on 12 January 2020, attracted plenty of interest, with examples of rare and desirable lots.
A $5 myrtle and salmon in an irregular block of three cancelled by Nanking City c.d.s. went under the hammer. Described as a 'stunning and highly desirable block' and the only recorded multiple of these elusive issues, the eventual sale price was HKD$250,000.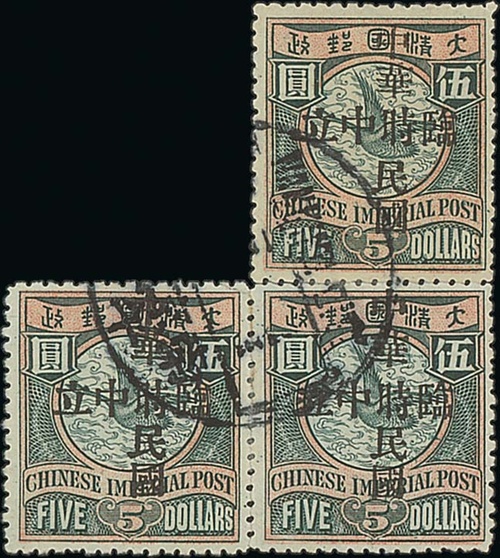 SOLD FOR £24,654
---
One of just 96 recorded examples of the 1912 provisional neutrality Foochow, described as a 'fresh and fine example' of a 'scarce stamp' sold for HK$24,000. Sold with a large part of the original gum and an old hinge remainder.
SOLD FOR £2,366
---
Russian Post Office, Kuldja, 1897 – an opened out envelope registered to Przhevalsk in Kyrgyzstan, bearing Arms 14k on the reverse, tied by a fine strike of the type K4, code '2' c.d.s. with further strike on the front. Described as a 'good early cover' and sold for HKD$28,000.
Content continues after advertisements
SOLD FOR £2,761
---
Also going under the hammer was an unused collection on pages of the basic set of eight 1945 Victory Over Japan (first issue) plus a selection of varieties with $2 offset, $5 imperf.pair, $8 kiss print double, $12 imperforate between vertical pair and $12 printed both sides. Sale price HKD$8,000.
SOLD FOR £788
---
All images and information courtesy of Spink. Find out more about the sale at their website.
Get price lists, auction details and events delivered direct to your in-box… sign up to receive the free 'Buy & Sell Stamps' newsletters today!