20 January 2020
|
Discover ten notable stamps from the reign of King George V, the so-called 'Collector King'
Britain's early stamp issues are the envy of the world, we invented the postage stamp after all, and the designs issued during the reign of King George V, the 'Collector King' himself, rank amongst the finest GB stamps money can buy. In this round-up, our roving stamp detective picks ten items that all KGV collectors would surely add to their albums…
Ten King George V stamps we'd love to own
The crisp, beautiful Kenya and Uganda red and black stamp shown below was expensive the moment it left the printers in the 1920s, with a denomination of £25, and almost a century later it sold for over 1,000 times its original value.
In truth, stamps with this very high value wouldn't have been used for postage, but rather revenue or tax purposes. That means the number of stamps issued with this denomination would have been far lower than lesser values, and so today naturally attract higher sale prices at auctions. Add in the condition of this example, and it makes for a George V gem that would take pride of place in any album.
The 1922-27, £25 Red & Black was sold by Robert A Siegel in 2014 for £28,792. The US auctioneers described the stamp was being 'lightly hinged, dazzling bright colours and crisp impression on immaculate white paper, uncharacteristically well centred EXTREMELY FINE.' Before going on to describe the specimen as 'a fabulous example of the rare £25 king George V that ranks among the finest known examples.'
Can a list of George V classics include a stamp, or rather stamp sketch, that doesn't feature the King at all? We think so, especially when it's as stunning as the example below, sold by Grosvenor Philatelic Auctions.
Aside from examples in the archives, museums and certain private collections, auction lots like this provide we collectors with the chance to see beautifully produced artwork that would otherwise be forgotten forever. Here we're treated to the hand-painted sketch of George and the Dragon by illustrator Harold Nelson, which was intended for the 1d value of the stamps marking 1924's British Empire Exhibition at Wembley. Remarkably it was rejected, and Nelson would have to wait five years for the design to be resurrected for the 1929 Postal Union Conference stamp.
The blue and black sketch, on card (154 x 130mm) and signed by Nelson himself, sold at Grosvenor for £2,400.
Our next KGV treasure is from Australia and is an error, of sorts, since the 'SO' overprint is inverted; it should actually read 'OS' for 'Official Service'. These stamps were, as the overprint subtly suggests, for the use of Commonwealth and State Government agencies and were generally in use in the early 1930s. The government departments obtained the overprinted stamps in bulk and thanks to the 'OS marking there was no danger of them being used for private postage.
Spink sold this example as part of the sale of the Chartwell Collection of Australian States and Commonwealth in May 2018. The 1932 2d 'golden scarlet' stamp has the inverted overptint, as we've explained, and is cancelled by part 'air mail saves time' machine slogan. It's said to be the only recorded example and sold for £32,000.
Find King George V stamps on eBay…
Content continues after advertisements
Any King George V collection should include an airmail cover flown in 1911 on the first official UK aerial post. The historic flights took place between Hendon and Windsor and a huge amount of mail was taken onboard to mark the occasion, giving collectors a range of commemorative covers – the majority featuring a KGV stamp – to collect.
Postal history dealer and expert Bill Barrell recently offered a lovely set of six covers for £1,250, each with a different London postmark, and 'cancelled with mostly superb strikes' of the 'FIRST UNITED KINGDOM/AERIAL POST LONDON' die 5 hand stamp, for the six different days of this event. The covers were all addressed to one 'SJ Cardnell' who happened to be a Postal Clerk at Hendon Airport responsible for franking mail for the flights, no wonder it the set was described as 'a superb souvenir of the event'.
There's nothing like an error to add some charm to an album, and despite the King being an avid collector and follower of all things philatelic, even he couldn't stop the odd mistake slipping through. In fact, the first stamp of his reign, the so-called Downey Head, was a bit of a mess all round, with the public criticising the design and the post office soon replacing it. All good footnotes to add to our next choice, a green 1/2d of 1924, which has been doubly printed. This particular rare and striking error was sold as part of the headline-grabbing 'William H. Gross Collection of Great Britain Important Postage Stamps' sale (by Shreves Philatelic Galleries) back in 2007, when it fetched just over £8,000.
Having artwork for a stamp design is a fantastic way to tell the story of a stamp's creation, and this is a great example, showing artist Bertram Mackennal's 'large pen and ink' essay. The item, offered by Stanley Gibbons for £2,950, shows Britannia and a galleon in the design and the central vignette with a rough pencil sketch of a three quarter face similar to the Downey head stamp design. According to the stamp dealers the design was rejected 'as it did not include a "Lion Couchant" as directed'. Apparently this gem was discovered in Mackennal's estate after his death.
Mention King George V stamps to most collectors and they may start talking about seahorses, that's thanks to the iconic design that adorned higher value KGV stamps for much of his reign. So naturally any KGV collector will seek out the best examples of the stamp they can find. This unmounted example of a 1913 dull blue-green £1 is a great start, with the stamp slap-bang in the centre and the design looking fresh. It was offered at http://british-stamps.co.uk website for £2,945.
We tick two boxes with our next treasure, as we travel to Canada and add an 'Admiral' to our list, and throw in a block of stamps to make sure we have a nice 'multiple' example. So called because the King is shown dressed in his Admiral of the Fleet uniform, Canada's first definitive stamps were issued from 1911 until 1938, making them one of the nation's most famous stamps. Take into consideration the tumultuous period in which they were used, and the stamps offer collectors a huge number of varieties to look for. This bottom left corner block of ten of the 2c green is from 1922 and was sold for the relatively affordable price of $325 (approximately £248) by Siegel.
Continuing our box ticking exercise, here's a wartime example, this time from Jamaica, touching on the King's reign during the world to end all wars… which sadly didn't end all wars but did leave we collectors with countless varieties. We're also ticking the 'error' box here as the 'WAR STAMP' overprint on the second of our pair is missing the 'S'. This example fetched a more affordable £157 in a Great Britain and British Commonwealth sale by Sparks Auctions of Ottawa.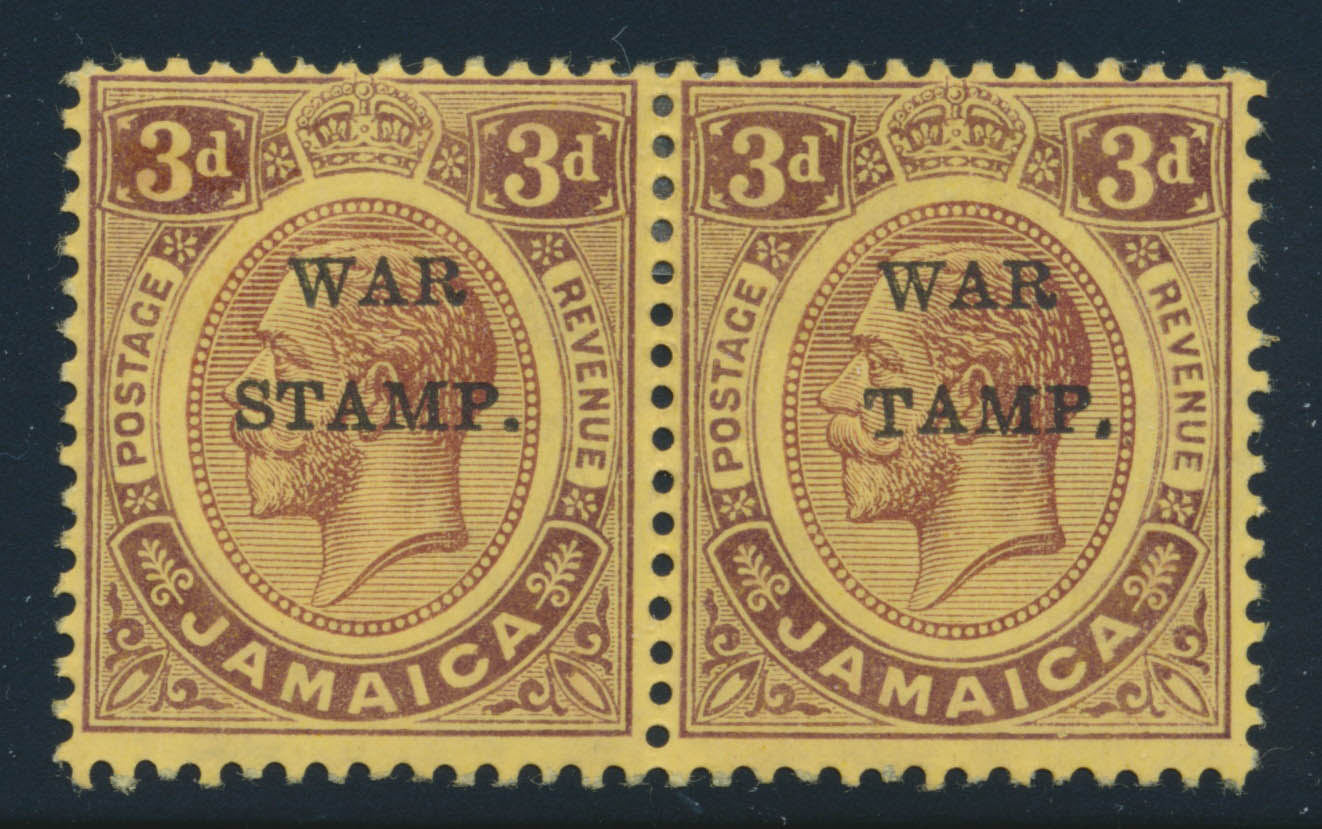 Finally, with any collection of British origins, the nation's imperial past cannot be ignored. Whatever your opinion on 'the empire on which the sun never sets', a Commonwealth stamp collection can reflect the past and demonstrate how the King served as ruler of many overseas territories. Here we visit Kuwait, and show a lovely example sold as part of a complete set of twenty, for $900 (approximately £689) by Robert A Siegel. Overprinted Indian stamps were in use in Kuwait for many years, from April 1923, following an 1899 treaty with the British which saw the consul handle mail (actually the mail was administered from nearby Iraq). Such context can really add to a stamp collection and would no doubt intrigue casual onlookers who may believe a stamp collection is little more than small pictures in a row. It's anything, as a King George V collection of any kind, collated with budgets big or small, will prove!
Buy Stamps from Trusted Dealers
---